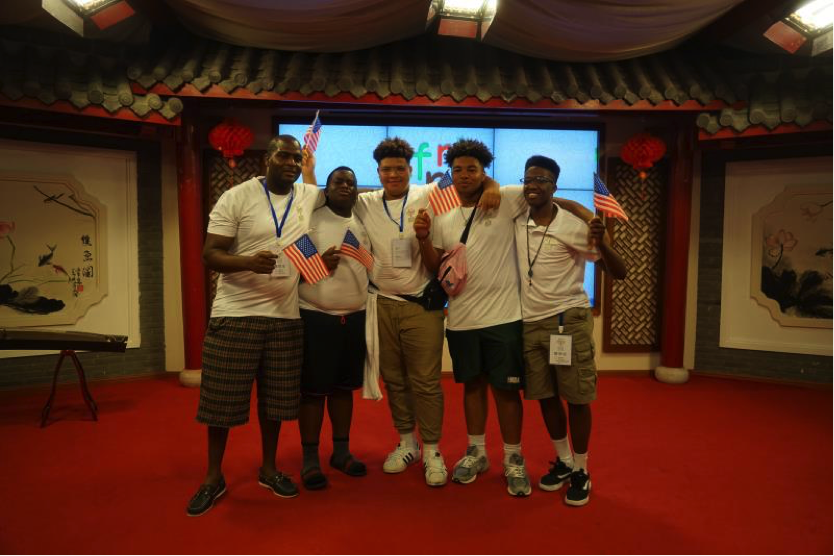 On July 24th, Baltimore-Xiamen Sister City Vice Chair Danny Evans led a group of local high school students on a thirteen-day trip to Xiamen, Fujian and Jiading, Shanghai. The students, Aaron G., Alexander G.t, Kolby L., and Mateen K., were invited by the Xiamen and Jiading Offices of Foreign Affairs through BXSCC to participate in cultural and language activities in their cities.
Aaron, Alexander, Kolby, Mateen, and Danny started off their China trip in Xiamen with a variety of activities including, but not limited to, art and culture courses at the Youth and Children's Palace, a visit to South Putuo Temple, and private tours of the BRICS Summit Facility, Xiamen University, and Gulangyu Island.
After Xiamen, our student ambassadors and Danny jetted off to Jiading District, Shanghai. There they attended the Jiading International Youth Friendship Camp, graciously hosted by the Jiading Office of Foreign Affairs. The Jiading International Youth Friendship Camp brings together exceptional students from across the globe together to learn more about Chinese culture. Aaron, Alexander, Kolby, and Mateen wonderfully represented Baltimore on an international stage by demonstrating aptitude in both intercultural communication and Chinese language skills.
Reflections from our ambassadors: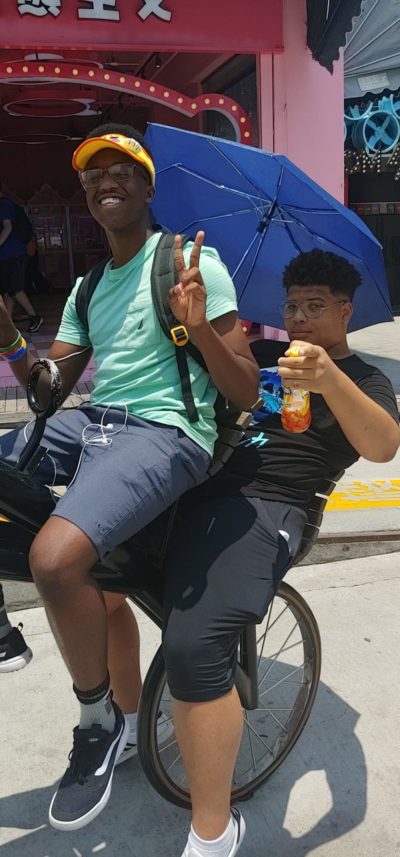 Student Ambassador Aaron G.
3 Years of Chinese Studies
"We really enjoyed our hosts because they made me feel at ease and were really nice. I also enjoyed the food in Xiamen. Authentic Chinese is the best! The highway construction was really interesting and seemed gravity defying. The highway appeared to just hover. Really cool. Because of all these memorable places and people, my first trip to Xiamen was fantastic.

In conclusion, Xiamen was an experience to remember, with our amazing Tokyo Drift Driver, the beautiful scenery, fantastic food, the kids we met and the activities at the Youth and Children's Palace."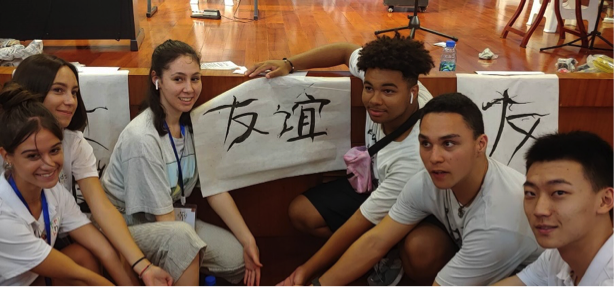 Student Ambassador Alexander G.
4 Years of Chinese Studies
"The trip to Shanghai taught me that people are more similar than you think. I have learned and experienced so much this past trip to Shanghai. I met so many kids from different backgrounds and cultures on this trip: kids from Japan, Serbia, France, England and New Zealand all converged in one place. They taught me some of their languages, slang and culture. It gave me insight into how each of them lived and their cultures."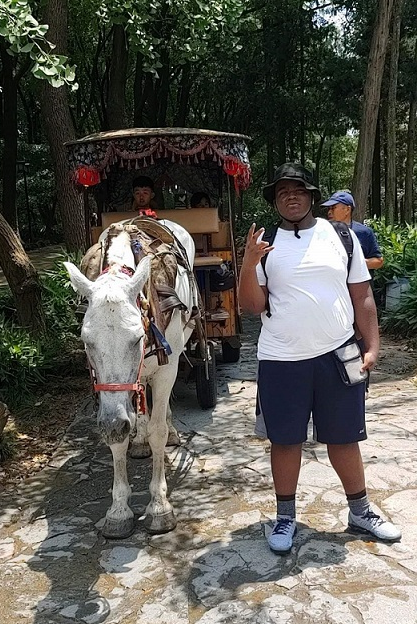 Student Ambassador Kolby L.
9 Years of Chinese Studies
"My experience in Xiamen was amazing and I would love to visit again. Everything was so picturesque and there were even palm trees everywhere. The first day in Xiamen we went to see the 2017 BRICS XIAMEN SUMMIT venue, where some of the world's most powerful leaders met. Later that day, we went to visit the Xiamen Youth & Children's Palace and had dinner with members of the Xiamen Municipal Foreign and Overseas Chinese Affairs Office."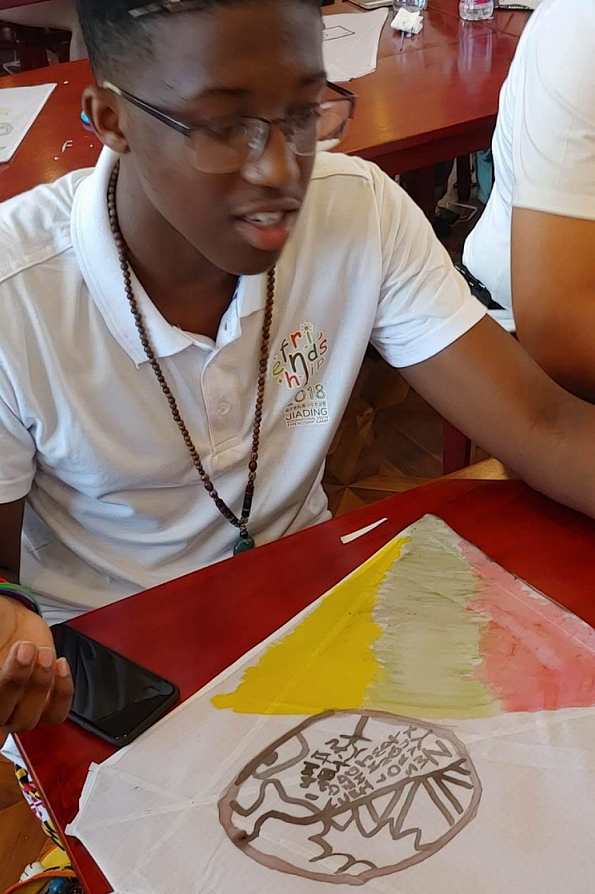 Student Ambassador Mateen K.
9 Years of Chinese Studies
"After finishing my four-day adventure with my friends in the city Xiamen, I was exuberant about participating in the camp in Shanghai. As I sat on the plane, I mentally prepared myself to meet new people and experience new things. The camp was well-structured. It had the traditional format of breakfast to sightseeing, lunch to more sightseeing to dinner, which most foreign camps have. But it wasn't the schedule that made the camp special; it was the campers. In the camp, I met a bunch of kids around my age, from all over the world, from New Zealand to Scotland, who I am now good friends with and that I hope to see again in the future."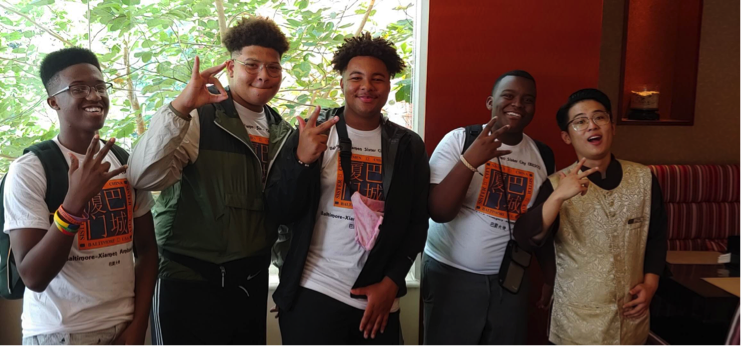 Thank you to Aaron, Alexander, Kolby, and Mateen for their efforts in representing Baltimore at the international stage, and for their support towards the Baltimore – Xiamen Sister City relationship!
A note from trip coordinator Danny Evans:
"I would like to thank our sponsors, the MECU Foundation and the Baltimore Community Foundation, for providing financial support to make this wonderful trip a possibility for these deserving students. Also, a special thank you to the BXSCC team: Chair Xin (Cindy) Wang, Treasurer Arella Liu, Baltimore Sister Cities, Inc. Vice President and BXSCC Member-at-Large Fontaine Bell, and Baltimore City Council's Director of Administration Hosea Chew, for their support of the program. We plan to continue this program in the future and encourage anyone who is interested to contact us via email at baltimorexiamen@gmail.com."
See the links below for video testimonies from the ambassadors themselves:
Aaron G.   Alexander G.   Kolby L.
See the links below for further coverage of the trip!
Article in The Afro: Baltimore Man Takes Students to China to Educate and Be Educated
Article in Xiamen News: Xiamen Shining in the Eyes of Two Baltimore Area Brothers
Article in Xiamen News: Baltimore Teenagers visit Xiamen in Sister-Cities Exchange Trip
Article in Shanghai News: Long Live With Our Friendship